Title: Love From Mecca to Medina
Author: S. K. Ali
Release date: October 18, 2022
Age-range/genre: Young Adult / Contemporary, Romance
Trigger warnings: referenced racism and islamophobia
Summary: [from goodreads]
Adam and Zayneb. Perfectly matched. Painfully apart.

Adam is in Doha, Qatar, making a map of the Hijra, a historic migration from Mecca to Medina, and worried about where his next paycheck will come from. Zayneb is in Chicago, where school and extracurricular stresses are piling on top of a terrible frenemy situation, making her miserable.

Then a marvel occurs: Adam and Zayneb get the chance to spend Thanksgiving week on the Umrah, a pilgrimage to Mecca and Medina, in Saudi Arabia. Adam is thrilled; it's the reboot he needs and an opportunity to pray for a hijra in real life: to migrate to Zayneb in Chicago. Zayneb balks at the trip at first, having envisioned another kind of vacation, but then decides a spiritual reset is calling her name too. And they can't wait to see each other—surely, this is just what they both need.

But the trip is nothing like what they expect, from the appearance of Adam's former love interest in their traveling group to the anxiety gripping Zayneb when she's supposed to be "spiritual." As one wedge after another drives them apart while they make their way through rites in the holy city, Adam and Zayneb start to wonder: was their meeting just an oddity after all? Or can their love transcend everything else like the greatest marvels of the world?
Love from Mecca to Medina is a super sweet follow up to Love from A to Z, exploring the highs and lows of Adam and Zayneb as they navigate married life.
thank you to Lonely Pages Book Tours and Netgalley for providing me with this eArc in exchange for an honest review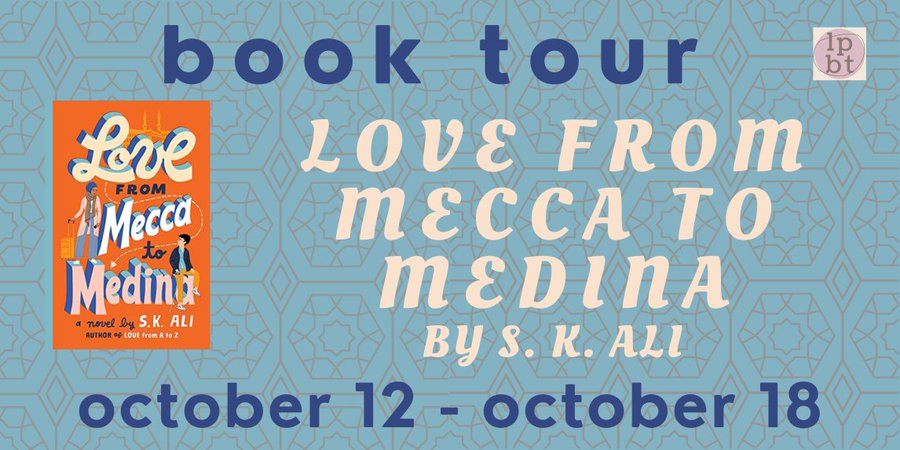 + romance & miscommunication +
The novel is set some years after Love from A to Z; it follows up with Adam and Zayneb when they've been together for a few years now – just having to live apart. Though religiously married, their relationship is long distance, resulting in one main issue: miscommunication. I'm not the biggest fan of the trope, it's very realistic and not at all over the top. I can see why both Zayneb and Adam do not communicate their troubles with each other – they both care so deeply for each other that they do not want to burden the other with their issues. Unfortunately, all of this can build up over time.
From the first novel, we saw clearly that Adam worried about distressing others with his troubles, especially his MS diagnosis. He has become better with communication, but still struggles to ask for help. Similarly, Zayneb too keeps her issues at school a secret from Adam, not wanting to worry him about what she is going through. As I said, I don't particularly like the trope in books, but it's so clear to see that this is all from love and Adam and Zayneb are characters who feel such intense love that they want to protect their partner.
Due to the dual perspectives, you can see both characters misreading things and worrying so much about their relationship. The miscommunication and subsequent self-doubt results in a lot of other conflicts, altogether making their resolution at the end even more rewarding.
+ plot and pacing +
My main qualm with the novel is that the pacing for the first 1/3 was slow, and it appeared like the characters were dealing with the same issues as in the first novel. Zayneb was again struggling with school (largely due to discrimination) and Adam was struggling with his place in the world (especially while living with his MS).
While I do appreciate continuity and the acknowledgement that the problems you had when you were younger can appear again in the future, I wish it hadn't been focused on hitting the same plot points. It does progress as the novel goes on, as the characters reflect more on life and their issues, which are much deeper than they appear at first.
+ character development +
I loved seeing the characters again. As always, I adored Zayneb. I feel like she had so much character development in the first novel, but there was less so in this novel. She does learn and grow, through pilgrimage itself but also through reaching out for help, but it's Adam who takes center stage for most of the novel.
I related more to Adam this time around; out of school, he was lost in life and trying to find opportunities to work and flourish. It's a deeply relatable thing, and I empathised with him and his strife. The novel doesn't shy away from the difficulties he faces due to his MS – the reality that there will be bad days, and that he may need things for accessibility.
Both characters grapple with the issues they have, and the realisation that as a unit they can lean on each other for support.
+ setting & religion +
The descriptions of Mecca and Medina were both so vivid and wonderful. I really appreciated the thought that went into describing the places and of umrah itself, and the stories behind the rituals.
I'm glad that the novel touched on the fact that you cannot just turn on a switch and be spiritual when you're in a holy place on pilgrimage. It's an act and a decision you have to make every day, regardless of where you are – much like in a relationship, you always have to make the effort and try every day.
All in all, I thought this was a solid sequel to this duology! The latter half was really good in exploring issues in relationships and religion, and a lot of that resonated with me. While the miscommunication went on too long for me, it was overall a great follow up to Love from A to Z.
Thanks for reading!
links for Love from Mecca to Medina:
goodreads ★ storygraph ★ bookdepository